Setting up a NordVPN router is a great way to make sure all of your devices are automatically protected with VPN encryption. By setting up a NordVPN router, you will be able to protect all of your devices without having to worry about installing VPN software on each individual device. In this article, we will show you how to set up a NordVPN router on your home network.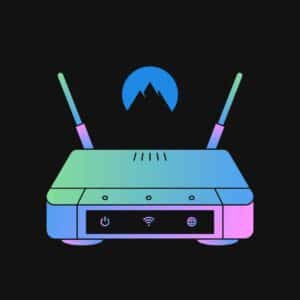 You can use NordVPN on up to six different devices at the same time. If you set up a compatible router to use a VPN connection, any device that connects to the internet through your router, no matter how many you have, will use the encrypted connection.
It also means that devices that don't support VPNs (such gaming consoles or media streamers like the Apple TV) can benefit from unblocking, and that all devices, including smart speakers, security cameras, and other smart home gadgets, gain an added layer of security and privacy.
Because not all routers support VPN connections, make sure yours does first. You can either contact the manufacturer, which is usually your internet service provider, or simply log into the router and seek for VPN options in the menus.
Even if it does support VPN connections, NordVPN no longer supports L2TP/IPsec and PPTP connections, so you're out of luck if your router only supports those protocols. You're looking for OpenVPN support instead.
It must specifically support OpenVPN as a client (rather than a server; nevertheless, server support is OK). Search online for your router's make and model to see whether it does. It's no good if your router supports OpenVPN's 'pass-through' mode: this just permits connections from devices rather than blocking them.
Which router should I use to set up Nordvpn?
Your present router, if it was provided by your ISP, is unlikely to support OpenVPN. Not just single, standalone routers, but some mesh routers may also support OpenVPN.
If your current router is incompatible, you may need to purchase one of the routers we recommend, or you might go to FlashRouters and purchase a router with special software that works with a companion app. You can use that app to log in with your NordVPN credentials and modify your VPN settings more easily than you can with a web browser. Use the code NORDVPNROUTER at checkout to receive a 20% discount.
There's also a list of NordVPN's recommended routers.
The built-in OpenVPN client on Asus routers makes them excellent for NordVPN.
How to Set up Nordvpn on Router
Depending on the manufacturer and possibly even the model, the exact technique of setting your router to function with NordVPN will vary.
While we can't give you a detailed step-by-step guide for your router, here are the general steps you should do. Also, keep in mind that NordVPN's website has instructions for a variety of routers.
Log into your router first. This entails entering the IP address of the server into your web browser. Then you'll need to input the admin password to make changes. This is normally found on a sticker on the router itself. For more information, consult our tutorial, which describes how to connect to your router in detail.
Look for the VPN settings next. This is normally found in advanced options, but keep in mind that not every router has these; you must be using a type that is compatible.
Be sure to find the VPN client settings, not the server settings. Here's how it looks on an Asus router: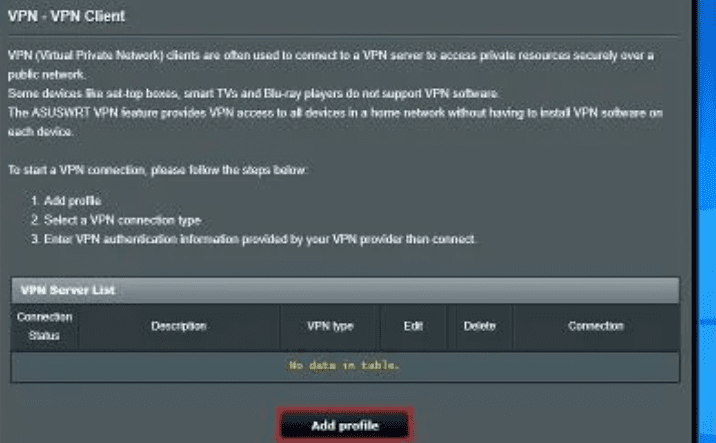 Now add a profile, which will include your NordVPN username and password. You can find these in your NordVPN dashboard.
Select 'auto reconnection' if it is available, which automatically re-establish the VPN connection if it drops for any reason.
Give your connection a name. You can call it NordVPN [country], where country refers to the location of the server you selected.
You haven't yet chosen a country, but you can use this link to get the NordVPN-recommended server. Alternatively, if you have a certain nation in mind (to get around regional blocks, for example), select it from the 'Adjust server options' drop-down menu.
You'll need at least one of the OpenVPN config files to create the VPN profile, so download them now. Use the UDP protocol wherever possible.
When you see the option to import an.ovpn file, select it and navigate to the location where you saved the file from NordVPN's website.
You should be able to save the setup after that.
Then choose whether to 'activate' that profile or connect to the VPN.
Return to this page in your router and click the 'deactivate' or 'disconnect' button to disconnect.
How to change NordVPN servers
Unfortunately, if you're manually building these profiles, you'll have to do it for each server you want to utilise. In many situations, that will just be a local connection for the fastest speeds, as well as one in another nation (such as the United States) so you can stream Netflix in the United States, for example.
After you've generated these profiles, go into your router and activate the profile for the country you want to appear in.
If you're not currently a NordVPN customer, the company's website has the most up-to-date offers. Click here
Note: We may receive a commission if you purchase something through one of our links at no additional cost to you. Our editorial independence is unaffected by this. Find out more.
Password: Canyy4353